---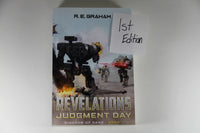 1st Edition Book 1 of Revelations: Kingdom of Sand | Novel
Revelations Miniatures
Kingdom of Sand - Book 1: Judgment Day
Now on the 3rd edition, this listing is for a 1st edition copy. Due to editing changes that came along in the author's process, updates and other minor alterations were made. 

This copy is marked 1st Edition on the inside of the book. 
Book Description: 
Space Pirates and Mechs

Abandoned by the Republic and pushed into desperation, Captain Mikhail Tarvus is forced to make the hard choices. He leads his crew of reluctant pirates to raid nearby worlds so that the people of his town can survive. This is not the life he would have chosen, but he can't stand by and watch his family suffer.

One of those raids started out like many others, that is until they realized they had boarded a Senator's private vessel by accident. After a mistake that left the government official and her family dead, the crew of the Only Hope now are in fear for their lives. A ruthless Inquisitor known as the "Pirate Hunter" is sent to rain judgment down on not just the pirates directly responsible, but everyone they are connected to.

Now that his town is in grave danger, Mikhail is faced with a daunting choice: Give himself and his crew up, or side with a murderous pirate lord to strike back before it's too late. Either decision will result in someone's death, but the Captain isn't about to roll over without a fight.

Fans of fast-paced, character-driven Science Fiction will feel right at home in this series.

If you enjoy Star Wars, Battlestar Galactica, or Battletech, you'll love Revelations.

Notice to Customers:
Due to Shopify's limitations, we do not have an easy way to make shipping cheaper for book sales. Unless specified by the customer or if other products other than books are included in an order, all books will be mailed with Media Mail (for U.S. buyers) and some of the shipping price will be refunded once mailed. We apologize for the inconvenience, but we are trying to come up with ways to make purchases affordable for the customer.