---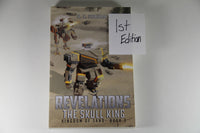 1st Edition Book 3 of Revelations: Kingdom of Sand - The Skull King | Novel
Revelations Miniatures
Kingdom of Sand - Book 3: The Skull King
Now on the 3rd edition, this listing is for a 2nd edition copy. Due to editing changes that came along in the author's process, updates and other minor alterations were made. 

This copy is marked 1st Edition on the inside of the book. 
Book Description: 
With blood soaked hands, Mikhail grasps his future.

Gone is the pirate who was timid and reluctant to act with violence. He has been replaced by a brutal pirate lord who will stop at nothing to build and expand his kingdom. The Skull King has been born.

With the death of Redbeard, Mikhail's domain has multiplied in size. Dozens of ships, hundreds of warriors, and teams of powerful WarMechs are all at his command. However, the other pirate lords are not thrilled with Lord Ruby's death. Instead, they feel they must act quickly in order to bring down Mikhail before he turns his sights on them. On their own they can't touch their enemy, but together they might just have a chance.

As the battle looms closer, Greed presents Mikhail with a plan to not only secure his domain, but to go a step further and bring the attack to the Corre Republic itself. Now the pirate lord must decide what kind of man he is going to become. He is one of the Destined…but only he can decide his path.

Fans of fast-paced, character-driving Science Fiction will feel right at home in this series.

If you enjoy Star Wars, Battlestar Galactica, or Battletech, you'll love Revelations.

Notice to Customers:
Due to Shopify's limitations, we do not have an easy way to make shipping cheaper for book sales. Unless specified by the customer or if other products other than books are included in an order, all books will be mailed with Media Mail (for U.S. buyers) and some of the shipping price will be refunded once mailed. We apologize for the inconvenience, but we are trying to come up with ways to make purchases affordable for the customer.