---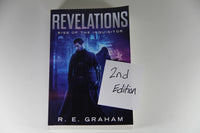 2nd Edition Revelations: Rise of the Inquisitor | Novel
Revelations Miniatures
Revelations: Rise of the Inquisitor
Now on its 3rd edition on Amazon. Due to editing changes that came along in the author's process, updates and other minor alterations were made. 

This copy is marked 2nd Edition on the inside of the book. 
Book Description: 
Corruption. Good vs Evil. Destructive WarMechs. Welcome to Revelations!

Damian Varius is a high-ranking inquisitor of the powerful Corre Republic, whose dominion extends over 60 worlds. Law and order are his guiding compass. He has been assigned a secret mission to investigate a group of terrorists, on the planet Eden, along with a mysterious "Shadow Man". This, seemingly, straight forward assignment quickly turns into a fight for survival.

The death of a government agent sends Varius on the run from the very law he is trying to uphold, and he finds himself teaming up with the terrorist's leader, Eva Primus, to clear his name. He must uncover the mystery behind the Shadow Man and his dark schemes before it's too late.

Inquisitors encounter the most dangerous missions, but this one could be Varius' last.

Notice to Customers:
Due to Shopify's limitations, we do not have an easy way to make shipping cheaper for book sales. Unless specified by the customer or if other products other than books are included in an order, all books will be mailed with Media Mail (for U.S. buyers) and some of the shipping price will be refunded once mailed. We apologize for the inconvenience, but we are trying to come up with ways to make purchases affordable for the customer.