---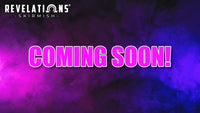 Revelations: Skirmish - Corre Republic Spade B-E - .stl files (pre-supports included)
White Light Media
*THIS PRODUCT IS IN PRE-ORDER STATUS UNTIL JULY 21ST, 2023*

THIS IS A DIGITAL PRODUCT ONLY - this product is currently on version 2.0
Lore:
The ground beneath the mighty Spade quakes as it stomps forward into battle. Designed to be the Sierra's big brother, it quickly gained recognition as an anti-mech killer. 

While the standard Spade focuses entirely on an armament around ammunition control, the B-E instead is aimed at area of control and  with a powerful Star Beam Cannon to annihilate enemy armor, a pair of repeaters to fend off lighter enemies, and a shoulder mounted launcher to dispense of cluster rounds to bust apart concentrated opposing forces.

Product Description: 

Included here are the following .stl 3D models for the Corre Republic: 
Spade B-E - WarMech

These models are automatically sized for Revelations: Skirmish scale. Supports ARE included. 

This product does include pre-supported files. We strongly recommend opening these files in Chitubox. Due to the nature of 3d printing, we cannot guarantee these files will print successfully on your printer due to lots of factors such as your printer, the resin, your settings, and so on. 
*All WLM .stl files are for personal use only. They may not be copied, given, sold, traded, modified, or distributed to any other individual or entity.  
**There are no refunds for this product. 

How to Assemble: