---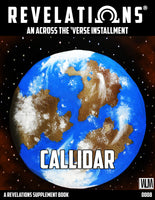 Across the 'Verse: Callidar - PDF Format
Revelations Miniatures
Callidar stands out not only in ORCA but in all of colonized space as the hub for the biggest mercenary contract monitoring service and some of the largest mercenary organizations in the 'verse. The world has firmly solidified its relevancy amongst the stars. Additionally, many outside of the soldier-for-hire line of work come to the planet. From its robust tourist spots, business advancements, and gladiatorial bouts in the WarMech Fighting Championship, there is plenty to do and see on Callidar. While it maintains itself as an independent world within ORCA, it strives to remain a neutral ground for representatives and individuals from all nations and walks of life.
Across the 'Verse is a series of small books intended to highlight planets of particular interest. Whether from the Corre Republic, Union of Stars, or any other nation. Each book will include a general background of important information, this ranges from key moments in the world's history to economic and cultural details. Players will utilize this document to set up new missions for Revelations: Skirmish or to learn more about the rich history of their forces. Also included is a 4 - part narrative campaign for players to
experience together.
Page Count: 23
Format: PDF