Be part of the community!
Join our Discord server to learn about all of the new things coming to Revelations: Skirmish.
Click here to join
New Starter Kits Are Here
New Starter Kits Are Here
---
Revelations: Skirmish bigger than ever!
We are now selling our own .stls so you can print your army right from your home!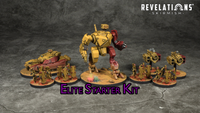 ---
Dive into the Revelations Universe
Revelations Skirmish
Revelations: Skirmish is a fast-paced, reactive table-top combat game. Each player builds their force of infantry, drones, vehicles, and powerful WarMechs to achieve victory on the battlefield.
Every game of Skirmish allows players an intense and enjoyable tactical experience, filled with destructive combat. All of the rules and stats are available for free.
We are proud to offer our models as both high quality resin prints or as .stls so you can print your own forces!
Learn more