---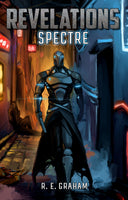 Revelations: Spectre - PDF Version | Novel
Revelations Miniatures
He's coming out of retirement for revenge!

Gideon Adama, otherwise known as the legendary Spectre, is one of the most notorious bounty hunters in the known 'verse. After a long and bloody career, he leaves it all behind to live peacefully with his new wife. After a deadly attempt on his life, he decides to come out of retirement for revenge.

His plan is simple, kill everyone in his way and get back to his kids.

What he didn't expect was that his trip back to the planet Benedictus would alert some very powerful warriors to his location. The Keepers of the Republic have been searching for the fugitive ever since he stole his now-famous power armor from them. Now they may finally be able to catch Gideon before he vanishes once again.

Spectre finds himself injured and on the run, but he isn't about to let that stop him from killing his target and returning to his family.

Fans of fast-paced, character-driven science fiction will feel right at home in Spectre.

If you enjoy Star Wars, Battlestar Galactica, or Battletech, you'll love the Revelations Universe.

--- PLEASE NOTE ---
My writing style can, at times, be graphic and brutal (but not gory). Reconsider this purchase if you are against violent situations.

Format: PDF

Pages: 366
Author: R. E. Graham