---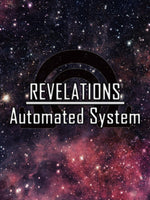 Revelations: Skirmish - Automated System
White Light Media
Product Description: 
Wanting to play a miniatures game but can't? Want to team up with a buddy instead of fighting one another all the time? White Light Media is pleased to announce a new expansion coming for Revelations: Skirmish, the Automated System. This system allows for players to play Revelations: Skirmish solo or with a friend against an NPC force.


How does it work?
On the Autos turn, a token is drawn at random that matches one of the units in the Automated force activating it. Then a card matching the unit's type is drawn which will list a number of actions that the model will perform. 


Does this drastically change the rules of the standard game?
No. But there some alterations. You can read all about them in the free Automated System rules here: https://tinyurl.com/y3wltfbl
What do I need to play this new system? 
The easiest thing to do would be to purchase a Revelations: Skirmish starter kit. From there you can grow your forces to company strength (up to 12 units per side). 


We carefully crafted this product to simulate playing against a lethal enemy. While it would be impossible to totally replace a human opponent, the Automated System is the next best thing. Whether you are locked down at your home or tired of always playing against your gaming friend, the Automated System is for you.
What's Included?
- 24 Acrylic new game tokens
- 60 cards 
- Token bag