---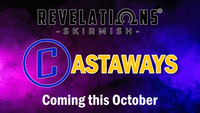 Revelations: Skirmish - Castaways Campaign | Monthly Subscription
Revelations Miniatures
>>IF YOU PAY FOR THE $34.95 OPTION YOU WILL NOT BE BILLED MONTHLY AND WILL BE EMAILED THE RELEASES EACH MONTH<<

One thing that we have needed for Revelations is something that helps tie together the community elements in with the experience of Revelations: Skirmish. Now we have something that can do just that.
Introducing Revelations: Skirmish – Castaways!
Castaways is a monthly subscription-based campaign system (starting in October) that will focus on Obso's Castaways. The scenarios will highlight their struggles to find work as mercenaries and establish themselves as a reputable company in the 'verse. They will face off against a variety of enemies, and maybe something new too.

Who are Obso's Castaways anyhow?
Obso is a shrewd businessman looking to take advantage of the increasing turmoil in the 'verse and the lucrative opportunities that mercenaries have before them. Instead of looking to pay a premium for the best mercs with stellar records one can hire, he instead employs those who are down on their luck and are essentially undesirable by any other organization. This way he can hire incredibly talented individuals but at a far reduced cost, meaning more profits end up in his pocket. The mercs in his company are very talented but their checkered past makes them more of a pariah.

Currently the crew is up to a handful of WarMech operators, but along the way they will have the opportunity to bring along more team members. In the meantime, Obso and his castaways will take jobs, build a stronger reputation in the mercenary market, and make some money.
What you will get every month (for 5 months/ ends in February):
2 new scenarios (with custom stats for boss fights and more) that can work along with the Automated System if you don't have a gaming buddy, or if you and your friends want to team up together
15% off coupon for shoprevelations.com that either you can use or give to a friend
Exclusive monthly gathering on discord
New monthly short story for the Castaways that carries along with the results from the campaign
Each month 2 new scenarios will be released with new foes for the Castaways to face. Based upon the combined scored results from the community it will either give the Castaways an advantage (such as a higher point total to build their forces or a new character that joins the roster) in the next month's missions, or a new problem they must overcome.

Of course, we know that some of the community has real-life things in the way of getting in a regular amount of games per month, so we have come up with a way to still allow you to be a part of the experience of the story without even having to roll any dice! Below you can find all the details for how we will accumulate new totaled scores every month.

Score system:
Post at least one image from a battle you played to social media – 10+ points with an extra 5+ if the Castaways wins the battle
Post a new painted image of either your Obso's Castaways forces (they can be whatever color you want) or whomever their enemy is that month to social media and tag Revelations – 2+ points for each model and on each of our social platforms
We have created a community document so you can learn more about the Castaways crew, get a glimpse of how the campaign will work, and more. 
This is a great way to help Revelations continue to fund new projects (we're still plugging away on designing the Karldra faction), spread the word about Revelations: Skirmish, and to also get to be a part of crafting the future of the Castaways.

In a future update we will be showcasing some of the current team of the Castaways with free lore and stats for some of their first playable characters, so stay tuned!