---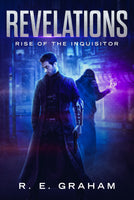 Revelations: Rise of the Inquisitor - PDF Version | Novel
Revelations Miniatures
Corruption. Good vs Evil. Destructive WarMechs. Welcome to Revelations!

Damian Varius is a high-ranking inquisitor of the powerful Corre Republic, whose dominion extends over 60 worlds. Law and order are his guiding compass. He has been assigned a secret mission to investigate a group of terrorists, on the planet Eden, along with a mysterious "Shadow Man". This, seemingly, straightforward assignment quickly turns into a fight for survival.

The death of a government agent sends Varius on the run from the very law he is trying to uphold, and he finds himself teaming up with the terrorist's leader, Eva Primus, to clear his name. He must uncover the mystery behind the Shadow Man and his dark schemes before it's too late.

Inquisitors encounter the most dangerous missions, but this one could be Varius' last.

If you enjoy Star Wars, Battlestar Galactica, or Battletech, you'll love the Revelations Universe.

--- PLEASE NOTE ---
My writing style can, at times, be graphic and brutal (but not gory). Reconsider this purchase if you are against violent situations.

Format: PDF

Pages: 349
Author: R. E. Graham