---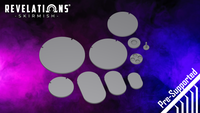 Revelations: Skirmish - Bases - .stl Files (Pre-supports included)
White Light Media
THIS IS A DIGITAL PRODUCT ONLY
Lore:
All your base belong to...you now.

Product Description: 
Included here are the following .stl 3D models for Revelations: Skirmish: 
Round bases: 
Infantry
Power Armor/ Drone
50mm
60mm
75mm
90mm

Vehicle bases: 
Small
Medium
Large

If you would like to see which units use which bases, we have created a community document for your use. Click here to see.
These models are automatically sized for Revelations: Skirmish scale. Supports ARE included. 

IF YOU WANT TO KNOW WHICH BASES GO TO WHICH MODELS YOU CAN REFERENCE THIS GUIDE: https://shoprevelations.com/pages/which-base-goes-to-which-models
This product does include pre-supported files. We strongly recommend opening these files in Chitubox. Due to the nature of 3d printing, we cannot guarantee these files will print successfully on your printer due to lots of factors such as your printer, the resin, your settings, and so on. 
*All WLM .stl files are for personal use only. They may not be copied, given, sold, traded, modified, or distributed to any other individual or entity.  
**There are no refunds for this product.