---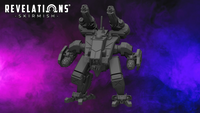 Revelations: Skirmish - Corre Republic Arbalest C2 - .stl files (pre-supports included)
White Light Media
THIS IS A DIGITAL PRODUCT ONLY
Lore:
With its Zephyr Strike Missiles swapped for micromissile launchers, and its blitz pods for long-ranged artillery cannons, the Arbalest B2 shifts from precision missile strikes to area-of-effect destruction. The B2 came about during the time of retiring the Musketeer from RAF deployments as the Sentry was in early rollouts. Already it has achieved incredible successful reports from campaigns within Faust Union and Karldra space.

Product Description: 

Included here are the following .stl 3D models for the Corre Republic: 
Arbalest C2 - WarMech

These models are automatically sized for Revelations: Skirmish scale. Supports ARE included. 

This product does include pre-supported files. We strongly recommend opening these files in Chitubox. Due to the nature of 3d printing, we cannot guarantee these files will print successfully on your printer due to lots of factors such as your printer, the resin, your settings, and so on. 
*All WLM .stl files are for personal use only. They may not be copied, given, sold, traded, modified, or distributed to any other individual or entity.  
**There are no refunds for this product. 

How to Assemble: