---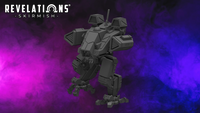 Revelations: Skirmish - Corre Republic Arbalest - .stl files (pre-supports included)
White Light Media
THIS IS A DIGITAL PRODUCT ONLY
Lore:
Before the Sentry was developed the Arbalest was already dominating the long-ranged missile strikes for the RAF. It still is used in larger scaled conflicts but it wasn't intended for smaller skirmishes due to its nature of bombarding enemy forces safely far away from front lines. The times have changed in recent cycles and have forced SaZa Industries to upgrade short-ranged armaments to allow the Arbalest a fighting chance if enemies get in close. Those who wander too close to one of the towering machines need to exercise precision to bring down their foe before the Arbalest has a chance to shower them with its blitz pods or laser repeater fire.

Product Description: 

Included here are the following .stl 3D models for the Corre Republic: 
Arbalest - WarMech

These models are automatically sized for Revelations: Skirmish scale. Supports ARE included. 

This product does include pre-supported files. We strongly recommend opening these files in Chitubox. Due to the nature of 3d printing, we cannot guarantee these files will print successfully on your printer due to lots of factors such as your printer, the resin, your settings, and so on. 
*All WLM .stl files are for personal use only. They may not be copied, given, sold, traded, modified, or distributed to any other individual or entity.  
**There are no refunds for this product. 

How to Assemble: