---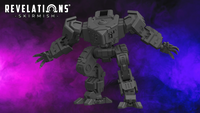 Revelations: Skirmish - Corre Republic Hunter (Savage Pose) - .stl files (pre-supports included)
White Light Media
THIS IS A DIGITAL PRODUCT ONLY
Lore:
Daloes Arms won the contract to develop a WarMech for the Corre Republic that was specifically designed for CQC missions. The Hunter is both agile and evasive as it is equipped with a multitude of jumpers allowing it to navigate the battlefield with incredible ease. Standard loadouts focus entirely on energy weaponry so that ammo is never a concern for the operator. Its medium repeaters riddle an enemy's armor while its focus beams lance through and destroy internal systems. If a Hunter gets within melee range it can make use of its heated claws to literally intensely slash through armor like it were aluminum. This is a WarMech that has earned many nicknames throughout the 'verse due to its ferocity and animal-like movements. It is the closest a typical WarMech has ever come to operating like an ECHO.

Product Description: 

Included here are the following .stl 3D models for the Corre Republic: 
Hunter (Savage Pose) - WarMech

These models are automatically sized for Revelations: Skirmish scale. Supports ARE included. 

This product does include pre-supported files. We strongly recommend opening these files in Chitubox. Due to the nature of 3d printing, we cannot guarantee these files will print successfully on your printer due to lots of factors such as your printer, the resin, your settings, and so on. 
*All WLM .stl files are for personal use only. They may not be copied, given, sold, traded, modified, or distributed to any other individual or entity.  
**There are no refunds for this product. 

How to Assemble: