---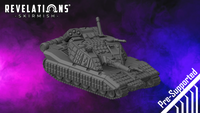 Revelations: Skirmish | Corre Republic Mars HA - .stl Files (Pre-Supported)
White Light Media
THIS IS A DIGITAL PRODUCT ONLY
Lore: 
The Mars main battle tank has continued to accrue remarkable accolades from Republic soldiers for some time. However, a heavier and more reinforced version was desired due to the increase of military engagements with the Faust Union and the tenuous peace on the Union of Stars border. Out of this need the Mars HA (Heavy Assault) was born. It is covered in reactive armor giving it increased defensiveness. Additionally it has an improved remote controlled MG and cannon, along with antenna enhancements to increase its effectiveness from UoS scrambling efforts. The HA variant is more costly to produce, but with its hardy nature it stays in the fight longer, and has a much higher chance of the crew members surviving an engagement which is a precious resource in its own right. 

Product Description: 
Included here are the following .stl 3D models for the Corre Republic: 
Mars HA - Tank
These models are automatically sized for Revelations: Skirmish scale. Supports ARE included. 

This product does include pre-supported files. We strongly recommend opening these files in Chitubox. Due to the nature of 3d printing, we cannot guarantee these files will print successfully on your printer due to lots of factors such as your printer, the resin, your settings, and so on. 


*All WLM .stl files are for personal use only. They may not be copied, given, sold, traded, modified, or distributed to any other individual or entity.  
**There are no refunds for this product. 

How to Assemble: