---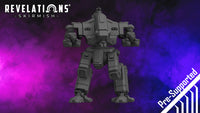 Revelations: Skirmish | Corre Republic Sentry R6 - .stl Files (pre-supports included)
White Light Media
THIS IS A DIGITAL PRODUCT ONLY and is currently on v1.1
Lore:
An alternate variant of the Sentry was to test the newest generation of delayed repeater tech, thus the 3DR weapon was developed. By strapping three of the weapons together, the R6 is able to take advantage of the laser burning carnage. It was later discovered that the weapon had a weakness to energy shields which was ridiculed by Republic commanders. 

Product Description: 
Included here are the following .stl 3D models for the Corre Republic: 
Sentry R6 - WarMech 


This model is automatically sized for Revelations: Skirmish scale. Supports ARE included. 


This product does include pre-supported files. We strongly recommend opening these files in Chitubox. Due to the nature of 3d printing, we cannot guarantee these files will print successfully on your printer due to lots of factors such as your printer, the resin, your settings, and so on. 

*All WLM .stl files are for personal use only. They may not be copied, given, sold, traded, modified, or distributed to any other individual or entity.  
**There are no refunds for this product.