---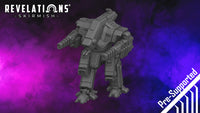 Revelations: Skirmish | Corre Republic Sentry SB2 - .stl Files (pre-supports included)
White Light Media
THIS IS A DIGITAL PRODUCT ONLY and is currently on v1.1
Lore:
Republic forces that are engaged in various military campaigns against the Faust Union or on the border with the Union of Stars requested a Sentry that could deliver high focused damage. The SB2 is equipped with linked Star Beam Cannons and is exactly what was ordered. Despite the drawbacks of the Sentry Mk I, the SB2 is not to be messed with and is often targeted first by enemy commanders who have experience of witnessing its destructive capabilities.

Product Description: 
Included here are the following .stl 3D models for the Corre Republic: 
Sentry SB2 - WarMech 


This model is automatically sized for Revelations: Skirmish scale. Supports ARE included. 


This product does include pre-supported files. We strongly recommend opening these files in Chitubox. Due to the nature of 3d printing, we cannot guarantee these files will print successfully on your printer due to lots of factors such as your printer, the resin, your settings, and so on. 

*All WLM .stl files are for personal use only. They may not be copied, given, sold, traded, modified, or distributed to any other individual or entity.  
**There are no refunds for this product.