---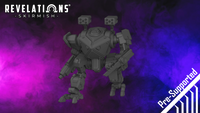 Revelations: Skirmish - Corre Republic Sierra H3V - .stl files (pre-supports included)
White Light Media
THIS IS A DIGITAL PRODUCT ONLY - this product is currently on version 2.0
Lore:
Standing proudly as the embodiment of not only the Corre Republic's military prowess for over a century, but as the standard that all other WarMechs are measured by. The Sierra is a workhorse of a machine and continues to be updated and improved over the decades. Currently the Sierra is in its sixth generation and has undergone a number of advancements to its anatomy to give it improved articulation and flexibility so that it can continue to stomp across dozens of worlds. 

Daloes Arms wanted to construct a Sierra loadout that maximized high damage output and the H3V is perfect for that objective. With linked buster missile packs it can unleash a wave of explosive fury. The right arm mounted weapon is replaced with a scattergun giving it lethal capabilities when it closes the distance with a foe. 

Product Description: 

Included here are the following .stl 3D models for the Corre Republic: 
Sierra H3V - WarMech

These models are automatically sized for Revelations: Skirmish scale. Supports ARE included. 

This product does include pre-supported files. We strongly recommend opening these files in Chitubox. Due to the nature of 3d printing, we cannot guarantee these files will print successfully on your printer due to lots of factors such as your printer, the resin, your settings, and so on. 
*All WLM .stl files are for personal use only. They may not be copied, given, sold, traded, modified, or distributed to any other individual or entity.  
**There are no refunds for this product. 

How to Assemble: