---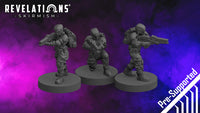 Revelations: Skirmish - Faust Union Conscripts - .stl files (pre-supports included)
White Light Media
THIS IS A DIGITAL PRODUCT ONLY
Lore: 
In times of great need a world may call up the Krasnee Molot and their conscripted forces to aid to defend the fatherland from invaders. Other times a draft is raised in order to send the conscripts to a different Faust controlled world. The conscripts are equipped with a laser rifle and modest gear. Combined with the heart and strength and love for their country, they stand against the attackers and resist every assault.
Product Description: 
Included here are the following .stl 3D models for the Faust Union: 
Conscripts - Infantry (3 poses)

These models are automatically sized for Revelations: Skirmish scale. Supports ARE included. 


This product does include pre-supported files. We strongly recommend opening these files in Chitubox. Due to the nature of 3d printing, we cannot guarantee these files will print successfully on your printer due to lots of factors such as your printer, the resin, your settings, and so on. 
*All WLM .stl files are for personal use only. They may not be copied, given, sold, traded, modified, or distributed to any other individual or entity.  
**There are no refunds for this product. 

How to Assemble: