---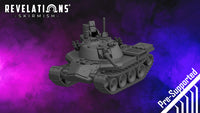 Revelations: Skirmish - Faust Union D70 - .stl files (pre-supports included)
White Light Media
THIS IS A DIGITAL PRODUCT ONLY
Lore: 
Used exclusively by the Krasnee Molot, the D70 is a staple of a vehicle within the conscripted forces in defending the Faust Union. While the tank is small and not overly durable, it is easy to repair and hits with a big enough punch that anyone caught down range of it will take notice of the danger. Millions upon millions of D70s have rolled out of the Faust factories, but the design is showing its age compared to other modernly developed main battle tanks. 
Product Description: 
Included here are the following .stl 3D models for the Faust Union: 
D70 Tank - Vehicle

This model is automatically sized for Revelations: Skirmish scale. Supports ARE included. 


This product does include pre-supported files. We strongly recommend opening these files in Chitubox. Due to the nature of 3d printing, we cannot guarantee these files will print successfully on your printer due to lots of factors such as your printer, the resin, your settings, and so on. 
*All WLM .stl files are for personal use only. They may not be copied, given, sold, traded, modified, or distributed to any other individual or entity.  
**There are no refunds for this product. 

How to Assemble: