---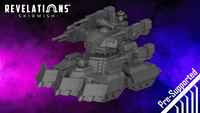 Revelations: Skirmish - Obso's Castaways "Dozer" - .stl Files (Pre-supports included)
White Light Media
THIS IS A DIGITAL PRODUCT ONLY and is ONLY available to those who are current subscribers to our Castaways campaign running right now. If you would like to join the campaign you can go here and learn more.

Lore:
This Vega was originally acquired as salvage after fulfilling a contract on Desparity. It was in incredibly rough shape and had much of the internal crew compartments gutted in the combat. Instead of just scrapping the machine, Yevhen had an idea to see if it could be repaired and set up to only require a single operator as opposed to a crew of two to three. This would allow Obso to pay only one operator and simultaneously make it easier to locate a crew for it.

Tish, the lead mechanic and resident madman in the Castaways, decided to play along and spent an arduous amount of time rebuilding the Vega into a hybrid of its former self. When he discovered that Xe Cho would pilot the Vega and that he had no formal training as a WarMech pilot, but he had a record of being an intense street racer, so he configured the Vega's controls to be much more suitable for Xe. Since most of the original weapons had been lost anyhow it made sense to try and select an armament for Xe that would be more point and fire instead of something more complicated like missiles or lasers. With Sierras and their previous renditions being in such abundance in the 'verse Tish decided to customize this Vega with four of the 14D cannons and extra machine-guns. 

Additionally, the mechanic made further modifications to give the Vega increased speed, extra dozer blades so that Xe could move aside obstacles when on a mission, and several other enhancements to make the WarMech even more of a nuisance on the battlefield. While Xe and his Dozer have not been together for very long, they have already worked together very well and have been instrumental on more than one mission for the Castaways.
Product Description: 
Included here are the following .stl 3D models for Obso's Castaways: 
Dozer's Vega - WarMech

These models are automatically sized for Revelations: Skirmish scale. Supports ARE included. 


This product does include pre-supported files. We strongly recommend opening these files in Chitubox. Due to the nature of 3d printing, we cannot guarantee these files will print successfully on your printer due to lots of factors such as your printer, the resin, your settings, and so on. 
*All WLM .stl files are for personal use only. They may not be copied, given, sold, traded, modified, or distributed to any other individual or entity.  
**There are no refunds for this product.