---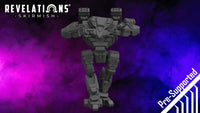 Revelations: Skirmish - Obso's Castaways "Ember" - .stl Files (Pre-supports included)
White Light Media
THIS IS A DIGITAL PRODUCT ONLY and is ONLY available to those who are current subscribers to our Castaways campaign running right now. If you would like to join the campaign you can go here and learn more.

Lore:
Not much is known about where this customized Goblin came from. What is very apparent is that her pilot, Lilly Flord, has altered it extensively. Taking an ordinary Goblin and turning it into a walking warcrime. From its overcranked plasma slinger to its fire spitter, little about Ember is standard.

Product Description: 
Included here are the following .stl 3D models for Obso's Castaways: 
Ember's Goblin - WarMech

These models are automatically sized for Revelations: Skirmish scale. Supports ARE included. 


This product does include pre-supported files. We strongly recommend opening these files in Chitubox. Due to the nature of 3d printing, we cannot guarantee these files will print successfully on your printer due to lots of factors such as your printer, the resin, your settings, and so on. 
*All WLM .stl files are for personal use only. They may not be copied, given, sold, traded, modified, or distributed to any other individual or entity.  
**There are no refunds for this product.