---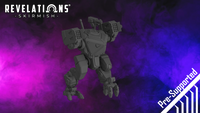 Revelations: Skirmish - ORCA Renatus - .stl files (pre-supports included)
White Light Media
THIS IS A DIGITAL PRODUCT ONLY - this product is currently on version 2.0
Lore:
Sierra's are the most plentiful WarMech in the Corre Republic. It has also undergone multiple upgrades and improvements resulting in waves of generational changes. This all adds up to a phenomenal number of old parts, wreckage, and decommissioned Sierra parts on the after market. Before Queen Abigail ramped up development of more original designs in Haven, it was commonplace to make use of last generation Republic tech to defend their realm. 

The Renatus was born out of the salvage of the Sierra and was given a second chance at life. Armed with linked TBM launchers it can deliver an explosive amount of damage down range, even indirectly. Don't make the mistake of ignoring a Renatus.

Product Description: 

Included here are the following .stl 3D models for ORCA: 
Renatus - WarMech

These models are automatically sized for Revelations: Skirmish scale. Supports ARE included. 

This product does include pre-supported files. We strongly recommend opening these files in Chitubox. Due to the nature of 3d printing, we cannot guarantee these files will print successfully on your printer due to lots of factors such as your printer, the resin, your settings, and so on. 
*All WLM .stl files are for personal use only. They may not be copied, given, sold, traded, modified, or distributed to any other individual or entity.  
**There are no refunds for this product. 

How to Assemble: