---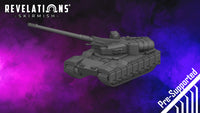 Revelations: Skirmish | ORCA Zevur Tank - .stl Files (Pre-supports included)
White Light Media
THIS IS A DIGITAL PRODUCT ONLY
Lore:
Designed by Drack Yugo after he defected from the Faust Union and fled to Haven. There he used his vast experience as an engineer to develop a dependable tank that Haven could use in protecting its borders as Republic excursions continue to rise. Beyond a solid loadout for damage potential, what makes this tank special is its ability to coordinate with nearby friendly forces to increase their effectiveness.

Product Description:
Included here are the following .stl 3D models for ORCA: 
Zevur - Tank

This model is automatically sized for Revelations: Skirmish scale. Supports ARE included. 


This product does include presupported files. We strongly recommend opening these files in Chitubox. Due to the nature of 3d printing, we cannot guarantee these files will print successfully on your printer due to lots of factors such as your printer, the resin, your settings, and so on. 

*All WLM .stl files are for personal use only. They may not be copied, given, sold, traded, modified, or distributed to any other individual or entity.  
**There are no refunds for this product.